Gordon's 1st grade T20 side and their loyal band of barmy supporters were met by a splendid day at what is now commonly known as The Fortress – Chatswood Oval. What many of the supporters would have missed was that the Country vs City warm up football match was again marred by controversy as rumours surfaced that Country indeed used up to 4 goalkeepers at one time. Nevertheless the boys were excited for another opportunity to show their skills and were full of confidence coming off the back of some really good performances in this format.
Losing the toss and being sent in, the batting innings got off to a rocky start losing Tym, who has scored so many runs for us this season, first ball. Momentarily spirits were low – but enter Dylan Hunter (the love of my life). Dylan put on a T20 batting masterclass, slamming 67 off 28 balls. Combining percentage plays with ruthless power hitting, Dylan kept the scoreboard moving rapidly and the fans very loud. Contributions right through the order saw us to a very competitive 179. Nathan Doyle (26 off 25) again showed why he is both the best rotator of strike in the club and also the most adept and reading the game. Max Newman continued his good form from the previous day smashing 44 off 36 balls. Ryan Meppem (22* off 11) closed the innings out with some impressive striking, primarily when scoring 16 off the final over.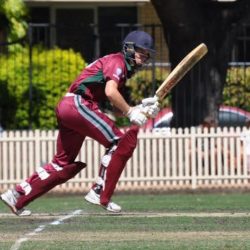 Matty Wright, Meppo and ooh ahh Premkumar bowled tidily in the powerplay to restrict Sutherland to 1/43. They made it difficult for the visitors to get back into the game once they were behind the 8 ball from the very start. Dylan (2) and Quincy (3) collected the majority of the wickets between them through the middle and kept the stags on top. Finally, there is only one Jackson Saggers and he picked up a very miserly 1/9 (2). On top of a brilliant bowling performance, the fielding was also excellent. This team prides themselves on fielding better than their opponent and today that went a long way towards a victory.
Three last things of note were that our skipper Tymmy with a Y Crawford led the team superbly yet again. He prepared us well, had great plans and captained in a manner where he was controlling the game. Secondly a shout out to our best fielder Lonklon Barnsley who was a stand out with 3 good catches including one brilliant grab at a crucial time to dismiss Biviano. Finally, to the greatest team man there is – Jamie Bekis. More than just the chief hydration officer, Jamie is always willing to serve and assist his teammates in any ways that he can. A true great stag.
All the guys playing would like to say a massive thank you to all the other players who came down. We love having you there and are glad that you all had an enjoyable day. Thanks to ground managers, admin staff, coaches, supporters, parents and anyone who played a role in the day. Onwards and upwards and see you at the conference final!
Matt Wright