In recent years we have generally had quite successful  weekends against the strong Saints club however with one win in thirds this was one they could argue was a bit of revenge for our past wins.
With one round to go before the Christmas break a good round against the UTS bears would certainly lift our spirits and provide the impetus for a strong run home to the finals.
Easy for me to say…it is up to you guys
First Grade
Cricket can be a cruel mistress sometimes. After a solid win against Parramatta and on a stinking hot day one, Gordon won the toss and batted on a dry Chatswood pitch. And that's about as good as it got. We lost wickets on a regular basis against a moderate attack. Lachlan once again look the best in show with 55, Tym made 33 and Taj 20 but with two run-outs and only one 50 plus partnership we were skittled for 142 in 44 overs. St George couldn't believe their luck.
A couple of early wickets gave us some hope but we dropped both centurions who ended up putting on 218 for the fourth wicket. With first innings points already lost we wanted to stop an outright and to ensure we played to a higher standard.
On day two the pitch was tacky and the cloud cover stuck around and while St George were looking to add quick runs we bowled and fielded really well taking the last 7 wickets for 51 runs. Pick of the bowlers was Ashwin with 4 for 50 off 14 and some good catching ground fielding with two run outs were all good prep for Sunday's T20.
We were left trailing by 175 runs with 82 overs left to be bowled and at 4 for 49 we appeared to be heading to hell in a handbasket. But cometh the hour cometh the man, or men in this case with Max Newman and Ryan Meppem settling in and battling hard. They put on 91 and batted time with Max compiling a fine 72 and Ryan a patient 39. They both rose to the occasion just when we needed them as did Jackson and Ashwin who saw out a difficult last few overs. The match was called just before close with a fascinating days cricket played without any change to the result from day one.
Gordon 142 and 9 for 213 lost to St George 9 for 317
Second Grade
The boys arrived to one of the best grounds in Sydney Grade Cricket…Hurstville Oval, to take on the undefeated St.George.
With the temperature over 35 degrees, all eyes were on the skippers as they tossed the coin. St.George won the toss & chose to bat. At 0-70, it appeared it was going to be a very long day and a big chase, but cricket is a funny game.
St.George were all out for 174 with some very ordinary shots for 2nd grade cricketers, but also some very good bowling in trying conditions. Credit to the bowlers & fielders for toiling so hard in the heat.
Matt Keevers was outstanding, bowling 14.5 overs & finishing with 2 for 24. He had 4 confident appeals turned down in his first spell.
Ben Parsons (1 for 33 off 9 overs) took a wicket making his 2nd grade debut & Jas Cheema (1 for 26 off 10 overs) took a wicket.
But it was another debutant, Shiv Rana, who took the bowling honours with 6 for 20 off 11 overs making 2nd grade look too easy for the young off spinner.
Other bowlers were Callum Bladen (0 for 36 off 10 overs) & Nick Miller (0 for 32 off 7 overs).
With 34 overs to bat, the openers Ryan Tullia & Dom Thomson made another solid start putting on 49.
Ryan Tullia was out LBW first ball after the drinks break for 19 & was soon followed by Jas Cheema for 10 & Dom Thomson for 38.
Gordon finished day one on 3-79 & still very confident of victory with Josh Claridge (4) and Arvin Niranjan (8) at the crease.
Unfortunately, an injury to Josh Claridge in a game in Newcastle the next day has ruled him out for 2 weeks. Effectively we were now 4/79 to commence day two. A replacement could not be made as the injury occurred in a different game.
Henry Wines started with Arvin Niranjan in a conservative manner chipping away at the total.
The re-introduction of the leg spinner (J Moors 6-44 off 22 overs) got the breakthrough, bowling Arvin Nirnajan for 24 & then Ben Parson next ball for 0.
Nick Miller was out first ball after lunch for 1. At effectively 7/121, we were in big trouble with 55 runs still required for victory.
Shiv Rana & Henry Wines fought hard before Henry was caught at cover for 48.
Matt Keevers followed shortly after for 1 & Shiv Rana battled bravely before being the final player out for 19.
St.George remained undefeated with a victory by 9 runs.
Whilst the injury to Josh Claridge had a big impact, it should never have come down to this. A win that we definitely let slip away.
The boys have slipped to 12th on the ladder & must regroup quickly to take on the 11th placed North Sydney Bears in the final round before Xmas.
Third Grade
Our boys faced up the Saints thirds at Killara Park and after winning the toss decided to bat on a good wicket. Unfortunately our start wasn't great losing Rahul Krisna, Harry Hannel and Lachlan McKenzie with only 37 on the board.
Fortunately we had the legendary Scott O'Brien in next and he steadied the ship with a well-made 25 while skipper Michael Fletcher was our rock at the top of the innings.
Tom Chapman then entered the fray and put together 78 with his skipper before Michael was out for 50 with the score at 150 for 5 off 39 overs.
Marcus Miller and Tom then raised the run rate and with Marcus scoring 37 off 41 balls and Tom eventually out for 59, the thirds were able to finish the innings at 6 for 213 which was definitely competitive.
The Gordon bowling lead by Simon Read, Connor Cook and Scott O'Brien then put the screws on the Saints team and kept the runs rate low while wickets continued to fall at important times. The Saints were bowled out for 194 off 49.3 overs with Simon finishing with 3 for 35 off his 10, Connor a very good 1 for 24 of his 10 and Scott O'Brien taking 2 for 28 from his 10.
An important win for the third graders.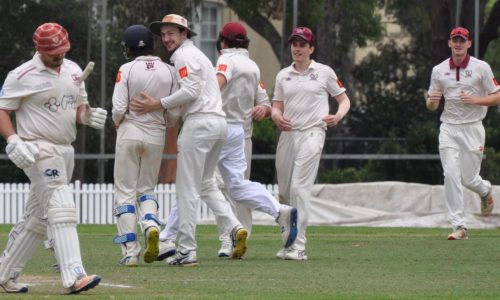 Fourth Grade
Fourth Grade played away at Harold Fraser Reserve with the outfield in great condition but the wicket a little soft underfoot. David Monaghan won the toss and elected to bat. Nick Astridge batted very well for his 32 runs off 39 deliveries, his innings included some marvellous cover drives that were pleasing on the eye.
Unfortunately Nomaan struggled to rotate the strike at the other end due to tight bowling from the St George opening bowlers. Apurv Sharma impressed again accumulating 39 without playing a false stroke until he was dismissed courtesy of an athletic catch just inside the boundary. Harry Rosengren and Sidhant Singh chipped in with scores of 20 and 15 in the middle order.
Towards the end of the innings, Prahlad Iyer played a valuable knock of 25* as he kept nudging the ball into the gaps, determined to maximise the total score. Not enough big scores and contributions with the bat saw Gordon finish the innings on 8/162.
Gordon started well with the ball courtesy of David Monaghan (2/45 off 10) and Prahlad Iyer (2/32 off 10) who were the lone wicket takers for Gordon. Some good keeping by Nomaan and some loose shots from the batsman saw St George looking shaky at 4/57. Unfortunately, a lack of disciplined bowling and energy in the field meant that St George's middle order saw them cruise to victory, chasing the total only 4 wickets down, with 15 overs to spare.
Fifth Grade
Fifths were at the picturesque Beauchamp Oval and after losing the toss were put into the field by the Saints skipper.
The innings went to plan for the bowlers taking regular wickets almost every 15 or so runs with Steve Bristow in an unusual role of opening bowler taking 2 early wickets while Conor Clift showed off his skills with 4 for 35 off his eight overs.
In the end Saints were bowled out for 155 and confidence was high in the camp.
It just wasn't to be however with wickets falling on a very regular basis and just when a partnership was looking like it might get us home a wicket fell. Nick Andreou top scored with 36 while Karan Tiwari scored 28 at No. 9.
The firsts were only able to score 136 and lost an opportunity to move close to the top 6.
Colts
The Colts team played their match on Sunday December 6 and travelled to St. Pauls Oval at Sydney Uni and were also put in the field after Uni won the toss.
Incredibly the Colts used 9 bowlers in trying to take wickets against the strong Uni team, however it was medium pacer Jack Woods who finished with the best figures of 5 for 31 from only 7.5 overs.
He was well supported by Conor Clift backing up from the fifth-grade match on Saturday with 2 for 40 and Nick Russo making a rare appearance at the crease to 2 for 15. Saints however were able to score 225 from their 50 overs.
With the score at 6 for 118 with contributions of 38 from Manas Dhargalkar and 36 from Raghav Roy, the target was looking a long way away.
Nick Russo had other ideas however and started to attack the bowling. Unfortunately wickets kept falling around him and, in the end, he was the last man out for 66 off 56 balls with the total at 212. Another close call.