Gordon and Parramatta have been declared joint Premiers in the Poidevin Gray Competition for 2020-21.
Unfortunately torrential rain saw the abandonment of play in the 1st Reserve Day for the Final and, with more than 120 mL having fallen, the two clubs agreed that there was no prospect of play in the 2nd Reserve Day.
This is the fourth time that both clubs have won this competition since its inception in 1926, and the first time for Gordon since 1974-75, 46 years ago!
The team contained our favourite son Michael Falk and the scorer was none other than Sir Richard Huey.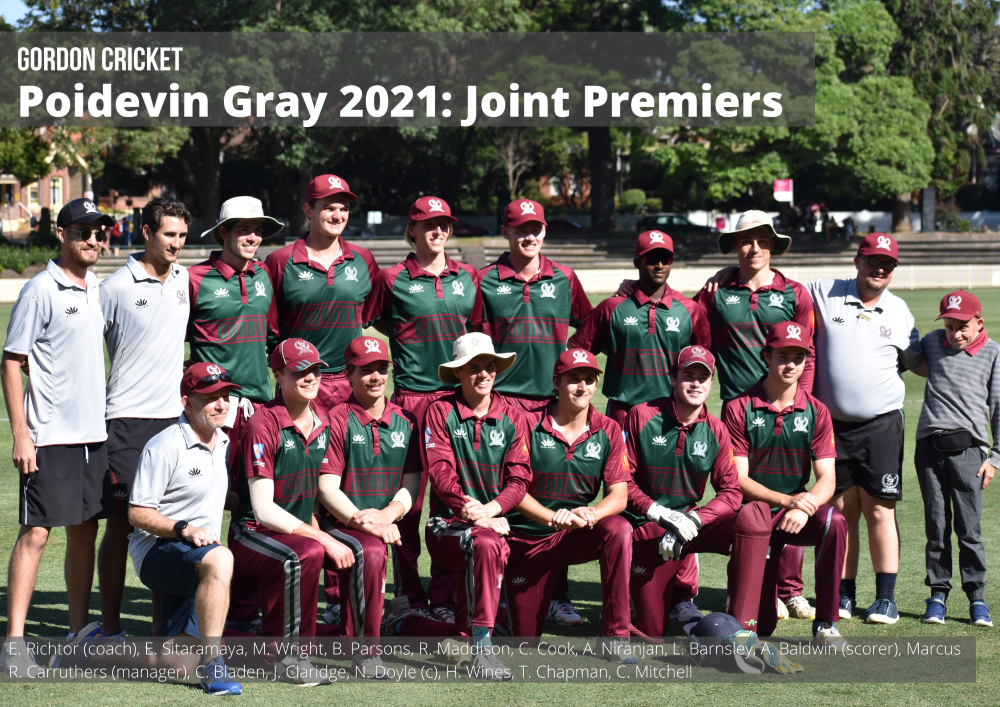 The following is a message from coach Elliot Richtor to his players following the final
Hey Guys,
Hopefully you have had time to let it sink in, but I just wanted to say congratulations on being joint premiers in the PG's competition for the 2020/21 season. It's unfortunate that there was no play possible in the final, especially being a format that we hadn't lost during the year and believe had the team + game plan to win. Everyone performed their roles consistently throughout the year, but most importantly your resilience was a major part in the success. There were a few big moments throughout the season in which we were able to rise to the situation and gain back momentum (highlighting being 4-73 against Sydney to go on and win). Had we lost those moments; the season might have had a different outcome.
The first Gordon team to win this competition in 46 years is an outstanding achievement. To the 15 players that took the field and all involved, you should be very proud of this achievement and something you will cherish in the future. The energy and enthusiasm you approached the season, each game and each training session was remarkable and the results are a reflection of this. There were plenty of highlights throughout the year, but I just wanted to mention a few below;
Batting:
4 x 100's, with 4 individuals (Nathan Doyle, Lachie Barnsley, Arvin Niranjan & Josh Claridge) scoring centuries
Record opening partnership of 226* vs Randwick Petersham between Arvin Niranjan and Lachie Barnsley (Arvin's PGs debut)
Nathan Doyle and Josh Claridge both averaged above 50 for the season
Our running was (generally) better than any other team
Our resilience to reset the innings when losing wickets/when a rebuild was required. Josh's and Matt Wrights's partnership against Sydney took us from a dicey position to a strong position to win, with Matt and Tom Chapman finishing off. Being 3-60 and having little momentum against Easts in round 1, to finishing 4-149. 3-75 against UNSW – 6-247 with Nathan and Josh in the runs.
Bowling:
The bowling unit did an amazing job. This was exemplified by a pretty even distribution of wickets between the bowlers. Our consistency kept teams at bay and allowed us to dictate by getting through the overs in rapid time
Anyone called into the team or upon to bowl, rose to the situation and did a great job. It was great to have a wide variety of bowers, with pace taking 60% of the wickets and spin 40%
Ben Parsons (16), Matt Wright (18) and Callum Bladen (19) all averaged under 20 with the ball
Callum up top would generally get us off to a flyer with a pole or two in his first few overs
Quickest over for the year was Connor Cook – 1:02 vs UNSW according to the Bull
Fielding:
This was something emphasised throughout the year and we were better than any other team in the field. Your energy and ability to build up pressure was outstanding, resulting in several run outs and some hangers (Henry Wines)
Getting through our 50 overs in around 2.5 hours every game was amazing.
Special mention goes to Nathan Doyle for his captaincy throughout the year. He led from the front through his performances and backed all the players to do their job. Thanks to Rob for all your hard work throughout the season and unmatched dedication to the team. You ensured game days ran seamlessly, ultimately contributing to the team's success. Andy (The Bull) for scoring and your post game analysis' in the sheds, Michael Cant, Mark Carmichael, Tony Wilson, Any Falk, Jim Cattlin, all the players, parents, supporters and anyone else involved.
You are the future (Now) of the club and have a taste of a premiership but make sure you are hungrier to improve next season. Enjoy your winter. Have a few weeks off to relax and recover, but make sure you are fit and ready for a big preseason in July/August.
Cheers Els