First Grade wrap from Mark Newman
We arrived at the historic Pratten Park for another encounter with the enigmatic Western Suburbs Cricket Club. It was only the week before that they'd chased down 368 set by UNSW with four of the top five making 50 or more. However, on inspection the pitch had a good green cover and the outfield was smoother than Tiddles inside thigh. Wests decided to have a bat and must have been confident of a good day out.
Fortunately the newly promoted ex magpie Quincy Titterton picked up the first wicket caught in the gully and that was almost immediately followed by an absolute screamer in the slips by Doylie off captain Crawford. Ominously at the other end Josh Clarke looked a million dollars and he and their number four put on 90 + before falling to a good shout for lbw off, "can't keep him out of the game", Dylan Hunter.
Quincy picked up another and then deadeye Doyle left their number 6 just short of his ground. Jackson Saggers came on and with the score at 5 for 148 forced an error from their number four, bowled a snorter next ball which was swallowed by a diving Max Newman and cleaned up the last three to secure a Michelle. All of a sudden we had 41 overs left and 170 to chase.
Once more we got off to a very solid start with Bekis and Brar providing a calm and confident opening stand of 65 before a muddle in the middle left Jamie at the wrong end. Lachie came and went then Taj not long after and despite a thumping 22 from Tym he too was heading back to the sheds. 4 for 102 looked to be an awkward position with the gloom setting in and plenty of overs left. Wests were hoarse from frivolous appeals but Dylan and Doylie saw us to stumps with 38 required to get the points.
Mark Newman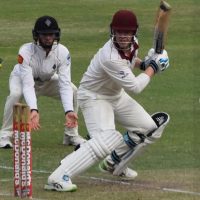 Second Grade report from Glenn Tullia
The Gordon 2nd grade team arrived at Punchbowl Oval looking to bounce back from a disappointing performance from the previous round.
Punchbowl Oval presented us with a slow, spongy, green wicket with a sandy top dressed outfield. There would only be 9 fours & 1 six for the day ahead.
Nevertheless, Gordon won the toss & elected to bat, as you never know what is in store the following week. As it turns out, showers are predicted, so it could be a lively wicket next weekend if we get on.
Tullia & Thomson started proceedings slowly, looking to take the shine off the new ball. Tullia was first dismissed, caught at short mid wicket in the 15th over for 7 with the team score on 22.
Radhakrishnan came to the crease & looked solid before being given out caught behind to a dubious decision for 22.
After batting very well & getting to 36, Thomson was dismissed shortly after, playing a low percentage up & over the slips, only to get a fine edge & caught behind. The team score was now 3 for 71.
Skipper Jayasekera & Wines then dug in to rebuild the innings.
With the team score at 3-118, Wines was given out LBW for 13 from what appeared to be an inside edge.
Unfortunately, it sparked a batting collapse of 5 for 14 with Miller (0), Hannell (0), Jayasekera (39) & Sequeira (7) all dismissed within the space of 5 overs.
Jayasekera batted very well for his 39 which included 3 fours & 1 six before being dismissed LBW.
At 8 for 132, we were in dire straights.
Niranjan making his 2nd grade debut was looking for some support & found it.
Keevers, fresh from his double figure score the previous week, was promoted to #10 & dug in for another double figure score of 10 before being caught. He could be seeking a further promotion next round. Niranjan & Keevers put on 17 in 11 overs.
But it was the 10th wicket partnership that got the team pumped. Bladen making his 2nd grade debut joined fellow 2nd grade debutant Niranjan at the crease. The young fellas batted beautifully for 22 overs & put on an invaluable partnership of 50. Bladen was last man out for 20 & Niranjan batted really well for his 33 not out.
Gordon was all out for 199, but back in the game.
All batsman have now had at least one decent innings this season, so they will be looking for bigger scores & more consistency in the rounds ahead, if we want to be a finals contender.
With 4 overs remaining, we used Keevers, Bladen, Sequeira & Miller for 1 over each. Despite a number of LBW appeals, Wests survived to be 0 for 3.
If we get similar conditions next week, bowl straight with no width & hold our chances, we are still a big chance to win this match.
Glenn Tullia