Gordon completed four wins in their five games against Northern District – a top effort – with a number of excellent team and individual performances. Charlie Stobo and Lachlan Barnsley excelled in First Grade, Rahul Krishna and the bowlers were great in Thirds, Conor Clift stole the show in Fourths, while Nick Russo and Felix Barbeler made it very straight forward in Fifths.
1st Grade
On day 1, Gordon batted first at Chatswood. After losing two early wickets, Lachlan Barnsley and Axel Cahlin added 71. The middle order then struggled and it was left to Charlie Stobo and Mark Newman to get the score to 265.
Charlie then took the first 3 wickets to have Gordon in a good place. A strong partnership ensued and the pendulum swung. Wickets began to fall and suddenly it was 8 down and 51 to win. A good position, but, as inevitably happens, there was a sting in the tail. The score mounted to only 8 to win before Tym Crawford finally broke the partnership. Then, with his very next ball, he struck the no.11 plum in front and Gordon had won a thriller. A good fighting effort with a limited bowling attack due to Glen Winsor's illness. Charlie Stobo was the star, taking 5-58 from 24 overs.
Gordon 265 (Lachlan Barnsley 90, Charlie Stobo 53, Max Newman 48, Axel Cahlin 42) defeated Northern District 258 (Charlie Stobo 5-58, Tym Crawford 3-53, Scott O'Brien 2-110) on the first innings.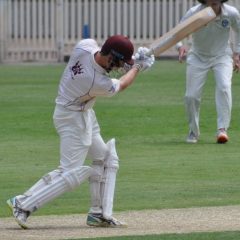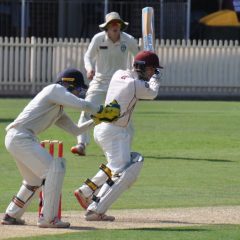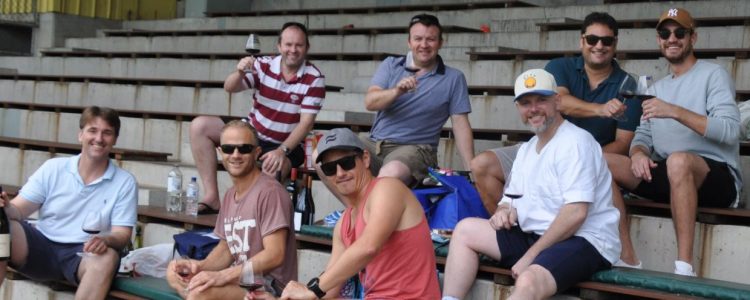 2nd Grade
Gordon had Northern District 7-125 on the first day but their lower order batted well and their final score of 261 was quite imposing. Jackson Saggers, Ashwin Premkumar and Alex Patterson were the best of the Gordon bowlers.
Apart from Dom Thomson, none of the other Gordon batsmen could capitalize on starts and they fell for 169.
Gordon 169 (Dom Thomson 47) lost to Northern District 261 (Jackson Saggers 3-32, Ashwin Premkumar 3-45, Alex Patterson 2-57) on the first innings.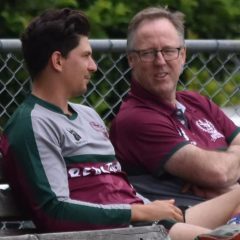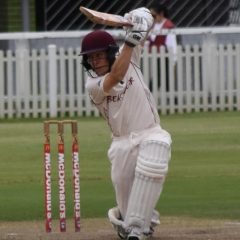 3rd Grade
After day 1 was washed out, a 120 over game was played on day 2. On a moist Beauchamp park with a very long outfield, Gordon lost the toss and were inserted. The innings was held together by an excellent, patient 68 from Rahul Krishna, well supported by Nick Andreou and Arvin Niranjan. The final tally of 173 was pretty solid.
The bowling – well, it was terrific! Dan Stickland, captaining the side for the first time, took a wicket in the first over, Callum Bladen, in his first 3rd Grade game took one soon after, and then… the bowlers kept taking wickets! The first 6 wickets were all caught behind the wicket (Nick Andreou took 4 as keeper) and before long, Northern District were dismissed for 51.
Simon Read made a huge contribution to this great bowling performance, taking 4-15 and always looking threatening. A really good effort from the side. Hopefully, they can finish the season with more of this cricket.
Gordon 173 (Rahul Krishna 68, Nick Andreou 34, Arvin Niranjan 23) defeated Northern District 51 (Simon Read 4-15, Callum Bladen 3-6, Dan Stickland 3-10) on the first innings.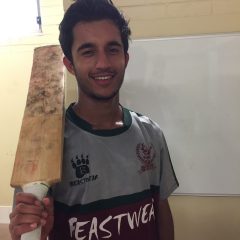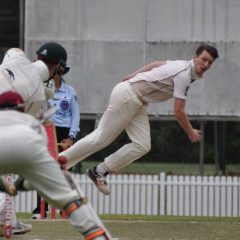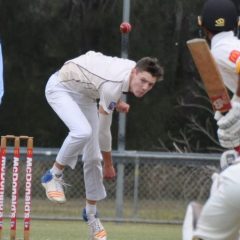 4th Grade
Gordon fought their way to 231 on day 1, largely due to a 110 run partnership between Lachlan McKenzie and Marcus Miller and some lower order heroics from Kartik Khetarpaul and Prahlad Iyer. On day 2, the early Gordon bowling was tight, as wickets fell steadily. At 5-122, Gordon were on top. A solid partnership followed and 54 runs later, Northern District were in the box seat.
Then Conor Clift, who had already taken two wickets, snared a great caught and bowled and from there it was the Conor show. He ran through the lower order to finish with a most impressive 7-56 with the last 5 wickets falling for only 11 runs. He was well supported by Prahlad, who bowled a long spell.
An excellent win and well done, Conor on a terrific effort.
Gordon 231 (Lachlan McKenzie 77, Marcus Miller 44, Prahlad Iyer 38*, Kartik Khetarpaul 37) defeated Northern District 187 (Conor Clift 7-56, Prahlad Iyer 2-45) on the first innings.
5th Grade
5ths also lost day 1, so they won the toss and bowled at Killara. The bowling was steady and wickets fell as the score rose slowly. Hayden Robertson was very good, as was Dave Monaghan, and the Rangers were finally out for 159.
The Gordon response was fantastic! Nick Russo and Felix Barbeler were circumspect at first and then pushed the rate along. They shared a wonderful partnership of 145 before Felix was out for a fine 66. Nick was out for an excellent 78 and, despite a couple of wickets falling, the Stags won by 6 wickets. A very strong win, with some good bowling and a great opening partnership!
Gordon 4-160 (Nick Russo 78, Felix Barbeler 66) defeated Northern District 159 (Hayden Robertson 4-39, Dave Monaghan 3-24) on the first innings.