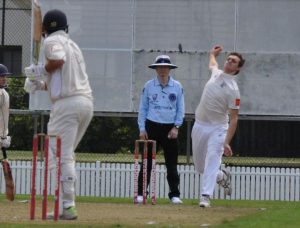 Over the last 21 years, it has been both a pleasure and a chore at times for Michael Falk, Tony Wilson and myself to travel around the various Gordon matches each weekend to either write a story about the match or take photos.
I would then match these together, hopefully with photos of the players who had performed well and publish the wrap often on the same night or at a minimum the next day. It has been a tradition for the club to prepare this review of the weekends' matches and the wrap has been a backbone of the website and our ability to congratulate or commiserate with the players.
There was many a Saturday as the scores were coming in, either by text or phone that someone was approaching a century or maybe taking 5 wickets and it was a rush to see who could get to that ground to take a photo. 'Tids, are you anywhere near Richmond' or 'Stevo, can you get back to Chatswood, Harry is on 86'. This wasn't easy when you have five grades and a Colts team spread across Sydney. But somehow, we did.
Unfortunately, Tony, Michael and I can't do this anymore and we therefore need the help of the club players and supporters to provide the information and photos needed to continue the tradition. Fortunately we have access to one or two photographers who are assisting; however we need the story of the match as the score doesn't always paint the correct picture.
Michael Cant has gone out to several supporters to assist with providing the information about the match and some have responded positively, so hopefully they will be sent in.
So for the matches against Manly last weekend we received two reports and they will make up the wrap for last week. Hopefully there are more this weekend. The spirit of the Gordon District Cricket Club demands it.
Fourth grade
It started off by Gordon winning the toss and putting Manly into bat on a tricky wicket and overcast conditions and the beautiful Graham reserve.
Karan Tiwari and Oliver Clarke starting off really well with Karan bowling tight lines and Oliver with his quick bowling sending the stumps cartwheeling in just his first over for the club. Both bowled well in tandem and ended up with 5 wickets in the game's opening spell (2 for Karan and 3 for Oliver).
As the pressure built, the Manly batsman started to make uncharacteristic decisions with one in particular which had Dave Monaghan sprint to from mid-off to short cover to collect the ball and dive full length to force a great run out.
Just when the Manly batsmen were looking to settle, young leggie Oscar Turner spun his web by turning one through the gate in his first over for his first wicket for the club. Oscar, who balled very tightly ended up with 3 wickets. Both the debutants impressed with their composure and bowling performances.
Looking to chase a mere 53 runs, Gordon lost early wickets, with the wicket playing some tricks and the ball moving off the seam. Matt Brown, the third debutant for Gordon, stood tall at the wicket, smacking the ball down the ground and through covers for a brave innings of 22 with great help from opener Nick Astridge who did well facing the new ball.
With 2 to win, Dave Monaghan smacked the ball straight to gully proving it was one of those days where everything just went to hand. Subsequently we lost 3 wickets for 3 runs and were left with 1 run to win with 1 wicket left. The tension was burst however when a wide was bowled providing Gordon with a bonus point win.
Colts vs Warringah
After a delayed start to the season; we were faced with another challenge with the wet weather. We all arrived at the ground and were greeted with the sun coming out and the covers were taken off showing a nice pitch.
Gordon won the toss and decided to bat first. We got off to a shaky start losing Jack Woods in the second over of the day however Nick Woodward and Arinath Gobinath got together and built a 46 run partnership. Nick batted well with some exquisite cover drives showing impeccable timing and starting the season well with a score of  47.
Unfortunately, after Nick departed, it saw the start of a middle-order collapse. Tiger Khunmuang and Manas Bansal provided some resistance in the lower order to keep the scoreboard ticking over and eventually we were all out for 131 in 42 overs.
We knew we had to bowl well to really challenge Warringah, and we did! Brock Lyon set the tone straight away with some tight line and length; getting two early wickets. Brock was well supported at the other end by Andrew Park and Oscar Patterson. Gordon had Warringah on 2/22 at the drinks (17th over), however Warringah came back out and started pushing the ball around confidently taking quick singles by taking advantage of some misfields until Andrew Park stemmed the run flow by securing a run out from cover. Manas Bansal and Arinath Gobinath worked hard to bowl as many dot balls as possible. Brock Lyon came back on and bowled 2 tight overs to finish with 2/15 which is an excellent Gordon debut and was rewarded with selection in the Gordon Team of the Round.
We came off for drinks at the 34th over knowing we had to turn the game around as Warringah only needed 30 runs to win with 6 wickets in hand. Arinath Gobinath and Andrew Park took quick wickets after drinks to have them teetering at 6-115. Shortly after though, the big downpour came, leaving Warringah winners of the game by 'Duckworth-Lewis' run rate.
So if there are any budding journalists or photographers out there, put your hand up and give it a go. And is someone is about to get a hundred or take 5 wickets and there is no photographer there take a photo of them with your phone.
The Webmaster