We have found our 10th GDCC player to die in the Second World War and he was right in front of our eyes.
The Gordon District Cricket Club honour board for those who served and died in World War 2 includes the names of the 9 players who made the ultimate sacrifice including Les Holland who died as a prisoner of war in Sandakan Borneo only days before the end of the war.
However, the honour board does not include Cedric Pike, who of course was the first Gordon Rugby Club President and has a stand at Chatswood Oval named after him. Cedric in fact played third grade for the Gordon District Cricket Club for three seasons from 1928 to 1932 starting as an 18-year-old just out of school. Cedric's career wasn't exceptional, however, as he took 8 wickets in the three seasons at 49.32 and scored 25 runs at 3.12. But that doesn't matter…
Cricket definitely wasn't Cedric main sporting passion, but as a rugby player, and member of Roseville Rugby Club's committee, he led a delegation to the NSW Rugby Union in 1935 seeking establishment of a new first grade district club for the North Shore. The Gordon Rugby Union Football Club was granted district status the following year and Pike was elected president at the club's inaugural meeting. After one hour as president, he resigned and became secretary, where he felt he could be of greater benefit.
Cedric Pike was the son of Mr. Frederick and Mrs. Emily Pike, of 105 Archer Street, Chatswood. Born in 1909, he was the youngest of three boys and two girls and was educated at Sydney Church of England Grammar School. Cedric became a clerk in the Perpetual Trustee Company and then a representative of Commonwealth Oil Refineries.
Cedric was later appointed by the NSW Rugby Union as liaison officer for the Australian tours of the Springboks in 1937, and the All Blacks in 1938. In 1938 he was made a life member of the Gordon Rugby Club, with badge No. 1.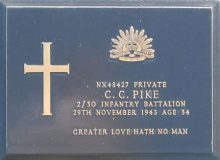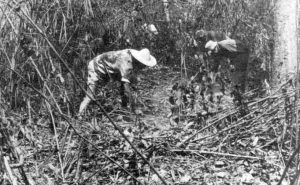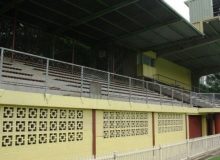 Cedric was married to Margaret Pike and was still living in the family home in Archer Street when he enlisted in the AIF on the 30th September 1941, joining the 2/30th Battalion and sailed to Malaya.
Cedric arrived on January 26, 1942, but as history knows only too well, on 15th February 1942, the Allies surrendered to the Japanese and all of Cedric's battalion became Prisoners of War.
Cedric was moved into the Changi camp on 17 February 1942 where they occupied Selarang Barracks, which remained the AIF Camp at Changi until June 1944. For many, Selarang was just a transit stop as working parties were soon being dispatched to other camps in Singapore and Malaya.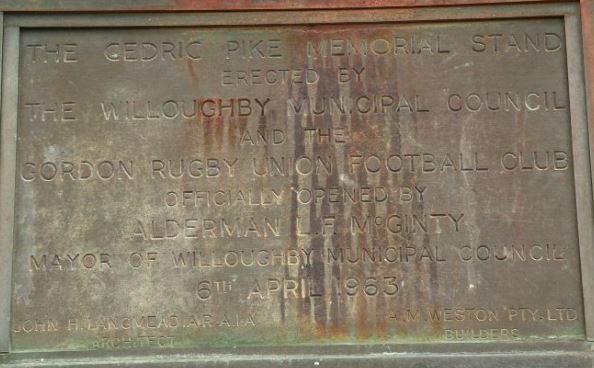 The notorious Burma-Siam railway, built by Commonwealth, Dutch and American prisoners of war, was a Japanese project driven by the need for improved communications to support the large Japanese army in Burma. During its construction, approximately 13,000 prisoners of war died and were buried along the railway. An estimated 80,000 to 100,000 civilians also died in the course of the project, chiefly forced labour brought from Malaya and the Dutch East Indies, or conscripted in Siam (Thailand) and Burma (Myanmar). Two labour forces, one based in Siam (where Cedric was based) and the other in Burma worked from opposite ends of the line towards the centre. The Japanese aimed at completing the railway in 14 months and work began in June 1942. The two sections of the line finally met near Konkoita towards the end of October 1943 and the completed line, 424 kilometres long, was operational by December 1943.
Tragically Cedric was one of those POW's who died during that construction period, when he succumbed to a heart attack on November 29, 1943 having suffered from Beri Beri just a few days before the railway work was completed.
Cedric is buried at the Kanchanaburi War Cemetery which is only a short distance from the site of the former 'Kanburi', the prisoner of war base camp where Cedric died.
To think Cedric went to war to fight the Japanese and spent almost his entire time building a railway in the most intolerable conditions possible. He suffered the horrors of being in a rail gang in the steamy temperatures and dense tropical forest with little food and even less medical attention.
As Gordon cricket and rugby followers will know the Cedric Pike Stand has been nominated by the Council for removal as part of the Chatswood Oval reconstruction plan and is likely to be removed in the near future. While the removal of the stand will have its safety and planning reasons, we certainly hope it does not also remove the memory of Cedric Pike from Chatswood Oval.
While there is a job to be done to add Cedric to the GDCC Honour Board for WW2, hopefully that isn't the only place at Chatswood where Cedric will be remembered. The spirit and sacrifice of the Gordon cricketers and rugby players who have played in the Gordon colours and fought and died for their country will never be removed.
Private Cedric Pike – Lest we forget
Gordon Cricketers who died in the First and Second World Wars
Fred Easton died May 19, 1915 Gallipoli
John Rule die November 2, 1916 Longueval
Owen Ford died April 27, 1917 Wimereux
Reg Black died August 19, 1917 Beersheba
Gother Clarke died October 12, 1917
Colin McCulloch died April 4, 1918 Amiens
Alan Bruce died September 15, 1918 at sea English Channel
David Robinson died May 30, 1941 Ottawa
Gordon Thame died December 2, 1942 Darwin
John McDonagh died March 12, 1943 Sea of Knityre
Ronald Lockrey died June 22, 1943 Mulhiem
Geofff Martin died June 25, 1943 Aitape
Norm Spalding died August 8, 1943 Italy
John Wearne died August 31, 1943 Cambridge
Norman Trumper died October 30 1943 New Guinea
Cedric Pike, November 29, 1943, Kanburi
Les Holland died July 6, 1945 Kandakan
To honour their memory, we can at least try to emulate their high standards of duty, their commitment, perseverance and sacrifice, so that their deaths were not in vain.
He died with the glory of faith in his eyes,
And the glory of love in his heart.
And though there's never a grave to tell,
Nor a cross to mark his fall,
Thank God! we know that he "batted well"
In the last great Game of all.
Paul Stephenson
Anzac Day 2020