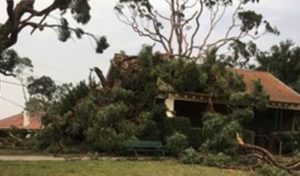 It isn't often a match is transferred because of storm damage, but that is the case this weekend when our third grade side moves its match to Grahame Thomas Oval in Bankstown.
Fortunately, the infrastructure wasn't damaged except for sections of our new picket fence that will need replacing. The damage as shown by the photos included several trees uprooted and some falling on the Pavillion. Fortunately, after 100 years, the Pavillion was too strong for the storm.
The Council notice says:
Following a recent severe storm, there are fallen power lines, hanging branches and dangerous trees in the parks. The off-leash dog area, playgrounds, tennis courts and tennis pavilion are closed to the public until further notice.
Poor dogs! What will they do with themselves?
A special thanks to the Bankstown Cricket Club who have offered to provide afternoon tea for both days at Grahame Thomas. It is much appreciated.