First and Second Grades completed excellent wins. In Firsts, Charlie Stobo's opening spell was fantastic and set the tone for a bonus point win, aided by a great opening stand by Axel Cahlin and Lachlan Barnsley. The highlight of the Seconds' big win was a wonderful hat trick by Matt Wright, followed by a top dig by Darren Jayasekera.
Unfortunately, the lower grades got themselves into trouble and then out of trouble but couldn't deliver the killer blows at the end when it counted.
1st Grade at Owen Earle
First Grade bowled on an Owen Earle wicket that certainly gave some early assistance. Charlie Stobo bowled a brilliant first spell where he beat the bat on numerous occasions and took several key wickets. He was well supported by Tym Crawford and the three spinners, Ryan Meppem, Scott O'Brien and Nathan Doyle. The Hawks were knocked over for 140 – a great effort.
There was some grubby weather heading towards Richmond from over the mountains and the Stags needed a good start. They got it, with Axel Cahlin and Lachlan Barnsley belting 78 from the first 12 overs before the rain sent them off the field. Fortunately, it was only for a short time, as they continued to plunder the attack. They took the score to 123 before they both got out (why do Gordon batsmen get out in pairs? Do they miss their friend when he gets out?). Tym Crawford and Steve Colley administered the last rites and Gordon had won very comfortably, with a bonus point. A really dominant performance.
Gordon 2-143 off 25 overs (Axel Cahlin 67, Lachlan Barnsley 47) defeated Hawkesbury 140 (Charlie Stobo 3-31, Ryan Meppem 2-19, Nathan Doyle 2-21, Scott O'Brien 2-32) with a bonus point.
2nd Grade at Chatswood
Gordon won the toss at Chatswood and bowled. Matt Keevers and Ashwin Premkumar took early wickets before a handy partnership. Austyn Nugent and Nick Miller then struck quickly but wickets became hard to get as the next two batsmen combined for a 129 run partnership. Matt Keevers finally got the breakthrough and then it was the Matt Wright show. At 5-191 he struck, taking a hat trick and then another. Matt Keevers took his third and all of a sudden, the Hawks were all out for 203. A terrific comeback by Gordon.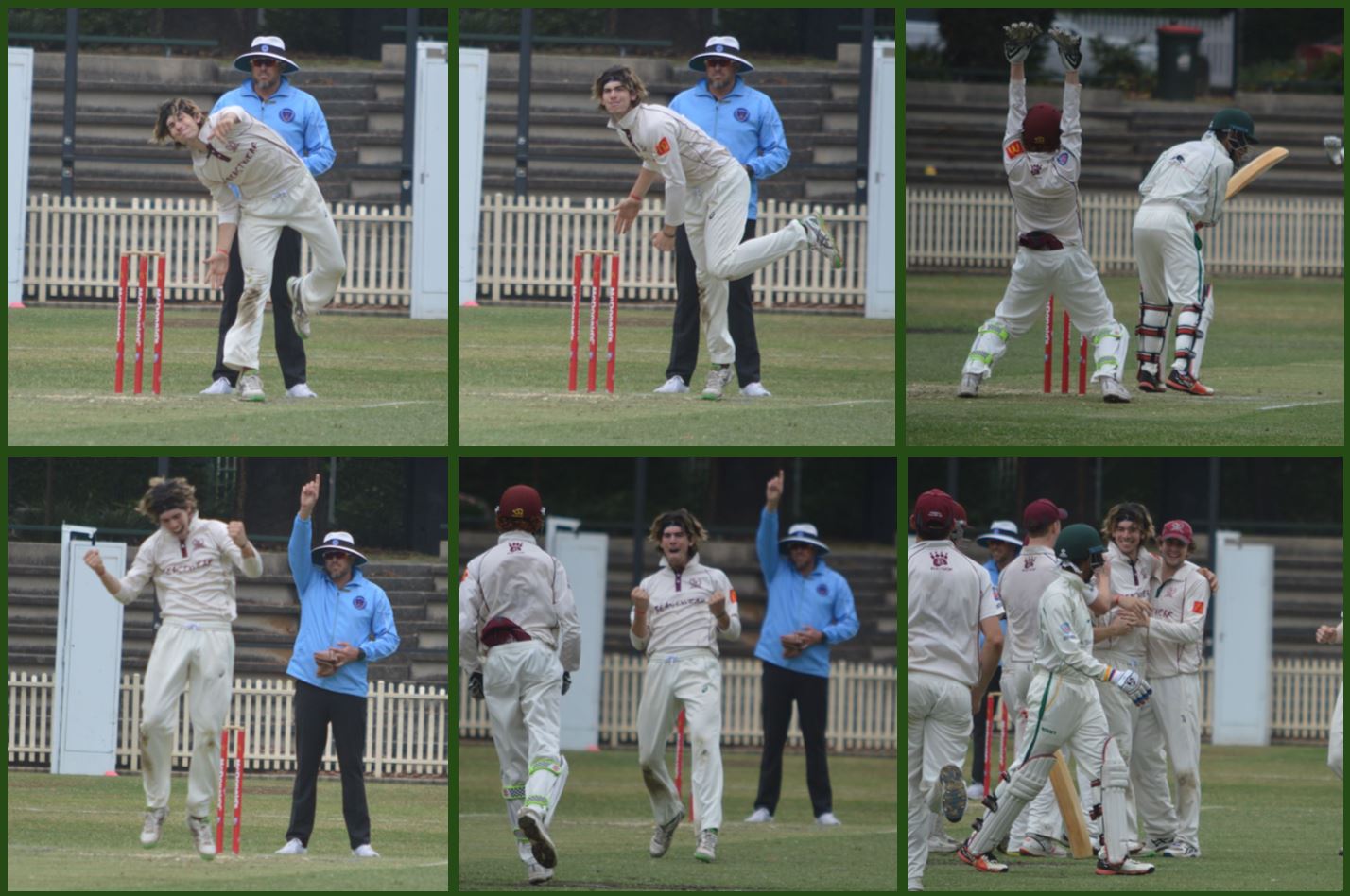 In reply, they lost an early wicket before Ryan Tullia and Michael Fletcher took the score to 79 before both were dismissed. Then Darren Jayasekera and Michael Roberts took over, dominating the attack and scoring freely. Darren finished on 71* from 51 balls and Michael 45* from 44 balls as they carried Gordon to the win with almost 10 overs to spare.
A great comeback and some stellar performances.
Gordon 3-205 (Darren Jayasekera 71*, Michael Roberts 45*, Michael Fletcher 35, Ryan Tullia 27) defeated Hawkesbury 203 (Matt Wright 4-37 incl hat trick, Matt Keevers 3-18).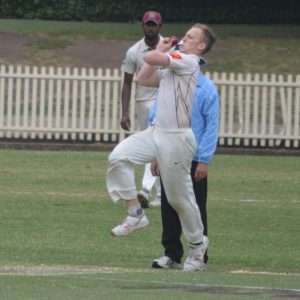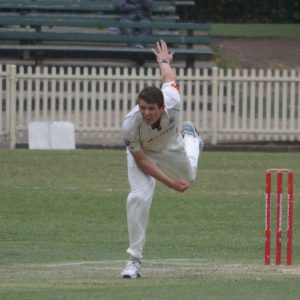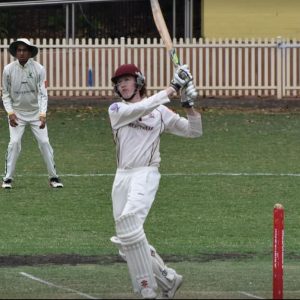 3rd Grade at Bensons Lane 2
Gordon batted first on a lively wicket and were in early trouble. Wickets fell regularly and in no time, they were 7-62 and in deep trouble. Lachie Burrows and Vikrant Nehru set about rectifying the situation. Lachie scored an excellent 40 but 9-135 was still trouble. However, Vikrant and Dan Stickland kept fighting, adding another 70 for the last wicket. Vikrant finished with a fantastic 67* while Dan's 20 was invaluable.
Vikrant kept in the game, taking two early wickets. Hawkesbury recovered to reach 2-90 before wickets started to fall again, with Vikrant and Lachie Burrows making inroads. Hawkesbury slumped to 8-164 and Gordon were well and truly back. However, the last breakthroughs weren't forthcoming and the game was lost with 4 balls remaining. Unfortunate. Nearly…
Gordon 205 (Vikrant Nehru 67*, Lachie Burrows 40) lost to Hawkesbury 8-206 (Vikrant Nehru 3 wkts, Lachie Burrows 2 wkts).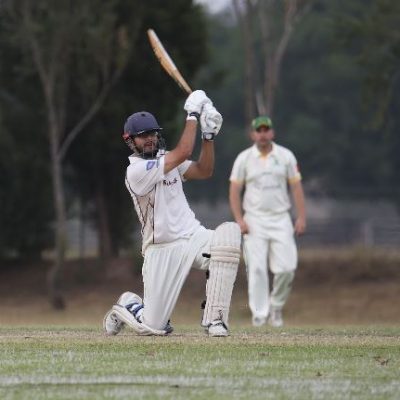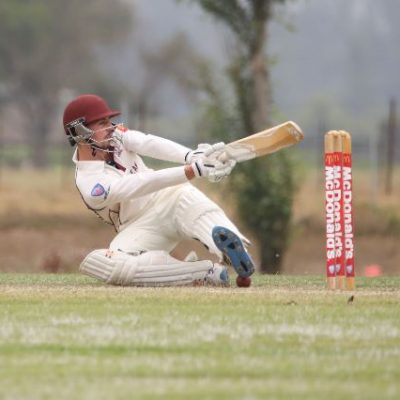 4th Grade at Killara
A top start from the Gordon bowlers saw Hawkesbury at 4-47. However, a very good partnership took the score to 155. From there, runs came slowly and the final tally of 7-200 was certainly not insurmountable. Simon Read was the best of the bowlers but all had their moments.
Gordon's early batting was disappointing and, at 6-77, it looked to be an early finish. Then Fraser Wilson and Shiv Rana got together and added 88 in a fine partnership. Both batted most competently but, just a win seemed likely, they were dismissed. The final two wickets fell quickly and the win went begging with the Stags falling 19 short.
Gordon 182 (Fraser Wilson 59, Shiv Rana 40) lost to Hawkesbury 7-200 (Simon Read 3-23).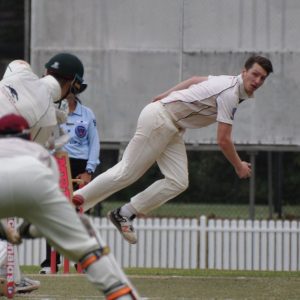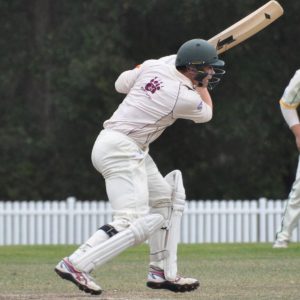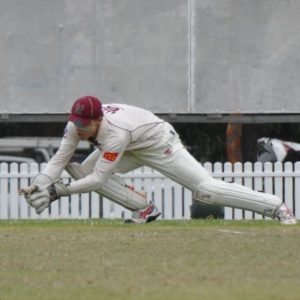 5th Grade at Bensons Lane 3
The start of the 5th Grade game was delayed due to some wet spots on the wicket. Gordon won the toss and bowled and took wickets fairly consistently. At 5-55 they were on top but a handy partnership took the score to 6-125. Several wickets then fell in a rush to have the score at 9-154. The final two batsmen added an invaluable 36 to see the innings close at 190. Callum Bladen was the pick of the bowlers with 4-22, while Dillon Amjad and Hayden Robertson also took wickets.
Gordon started disastrously, losing two wickets immediately. Dillon Amjad then scored a brisk 31 and Nick Woodward batted well for 39, sharing a good partnership with Steve Bristow. Again, wickets fell at crucial times and with three wickets remaining, Gordon need 37. Not to be, as the innings ended at 173, as the tail failed to wag. Unfortunate, after having got into a definite winning position.
Gordon 173 (Nick Woodward 39, Steve Bristow 36, Dillon Amjad 31, Callum Bladen 21) lost to Hawkesbury 190 (Callum Bladen 4-22, Hayden Robertson 3-44, Dillon Amjad 2-36)
Colts at Beauchamp
After a delay that was perhaps slightly longer than necessary, the Colts bowled first on a dampish Beauchamp deck. Hawkesbury got off to a fast start with one Hawks batsman particularly batting very well and scoring freely. Runs mounted briskly and, at 2-153, a very big score was in the offing. However, at the dismissal of this one batsman, the whole tone of the game changed and Hawkesbury finished on 8-215 from their 42 overs. Dylan Ranjan was the pick of the bowlers with a really impressive spell where he beat the bat on numerous occasions, while Varun Sahni also bowled a handy spell.
In response, the early Gordon batting was a little disappointing and the side was in real trouble before Felix Booth and Dylan Ranjan came together to add 72 for the sixth wicket. Unfortunately, overs were running out and the innings finished at 156. Felix's 75 was an excellent knock while Dylan also batted very sensibly, and it was great to see two young Green Shield players using so much common sense. Trevor Chappell, in his comeback match, had another century nipped in the bud, finishing on a creditable 0*.
Gordon 156 (Felix Booth 75, Dylan Ranjan 30) lost to Hawkesbury 8-215 (Varun Sahni 2-20, Dylan Ranjan 2-44).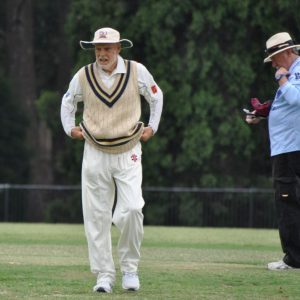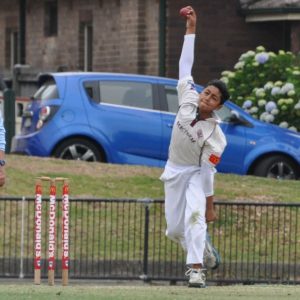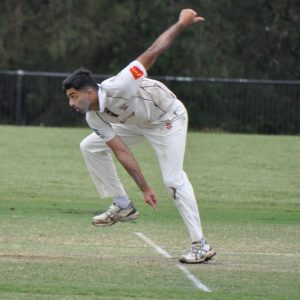 STOP PRESS
On Sunday, in the T20 double header, the Poidevin-Gray team continued on their winning way (4 wins from 4 games) with a crushing victory over Eastern Suburbs. Unfortunately, the First Grade team suffered an equally convincing loss against the same club.
In PG's Gordon finished with 144 (Nathan Doyle 49, Lachlan Barnsley 48) and bowled out Easts for 68 (Matt Wright 3 for 6, Dan Chillingworth 2 for 2, Vikrant Nehru 2 for 10).
In First Grade Gordon scored a very competitive 179 with Steve Colley scoring 71 and Tym Crawford 53. Competitive until Tim Armstrong started hitting out. Easts 0 for 180 (Tim Armstrong 123 not out).