Rain wrecked five of the six games on Saturday. Thirds were able to play for long enough to win but all the other games were washed out, some with Gordon in a good position, and some perhaps fortuitously.
1st Grade
The Firsts declared at their over the week score. However, after a couple of overs they were off because of the rain. Another couple of short sessions and an early lunch followed but the rain won the day. Penrith finished on 0-99, a very frustrating afternoon.
Gordon 9 dec 361 drew with Penrith 0-99.
2nd Grade
Penrith batted first at Chatswood in what was to be a 91 over game. They got off to a good start and scored at a good rate. Ryan Meppem was the best of the bowlers as Penrith reached 5-225. Unfortunately, that was all she wrote as the rain came down and there was no further play.
Penrith 5dec 225 (Ryan Meppem 3-50) drew with Gordon.
3rd Grade
Gordon only needed to play a very short time to achieve a first innings win. However, with the poor weather, there was always the chance that the game may have been completely washed out on day 2. Fortunately, after a late start, Gordon scored the handful of runs they needed for the win. They batted on for about an hour before the rains came and the match was called. A good win (just).
Gordon 2-134 (Michael Fletcher 60*, Darren Jayasekera 21*) defeated Penrith 101.
4th Grade
Gordon declared at their over the week total of 9-261. Penrith got off to a good start before Callum Bladen took a wicket. They then continued to pile on the runs until Rahul Krishna struck and then Lachie Burrows took one just before tea. Josh Porter took two after the break and at 5-184, it was shaping as a good finish. No more wickets fell, however, as the runs increased and the skies got darker. Eventually, with 18 runs to get and three overs remaining, the rain got too heavy and the game was called a little later. A good tussle.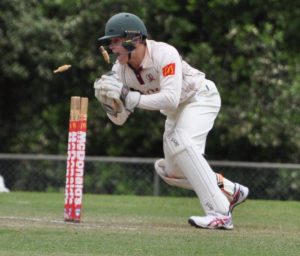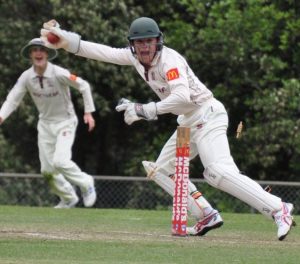 A great stumping by Fraser Wilson and some great photography from Tony Wilson
Gordon 9 dec 261 drew with Penrith 5-244 (Josh Porter 2-24).
5th Grade
The 5ths only added two runs to their over the week total and Penrith were left to chase 190 for the win. And chase they did. They batted aggressively, getting to 0-65 from only 11 overs before rain halted play. For the day. Unfortunate, but may have dodged a bullet.
Gordon 189 drew with Penrith 0-65.
Colts
The Colts also played Penrith in a one day game. After a delayed start it was decided that a 30 over a side game be played. Gordon batted first and the two openers, Nick Woodward and Nick Astridge, got the side off to a terrific start, adding 108 in good time. Both batted very well and, with a very handy 31 from Felix Booth, Gordon amassed 7-179 from their 30 overs. A most competitive total.
The Penrith response was brief. Kartik Khetarpaul bowled one ball, took a wicket and then the rain arrived. No further play. End of game. Frustrating!
(Many thanks to Matt the groundsman who made every effort to make sure the game was played. Part of the wicket square was wet (not his fault) but the deck itself was a belter (again!).
Gordon 7-179 (Nick Woodward 61, Nick Astridge 41, Felix Booth 31) drew with Penrith 1-0.
STOP PRESS
On Sunday, Gordon had a terrific start to the Poidevin-Gray competition with a win against Manly. Unfortunately, the First Grade side then were beaten by Manly.
GDCC Communications Team